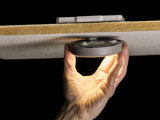 The LED lamp receives wireless power from a transmitting plate at up to 50 mm distance.
The wireless power goes through all non metallic materials.
• Wirefreelight lamps are installed without any tools!
• No furniture damage drilling holes for cables!
• All cables are completely concealed!
• The product has no batteries!